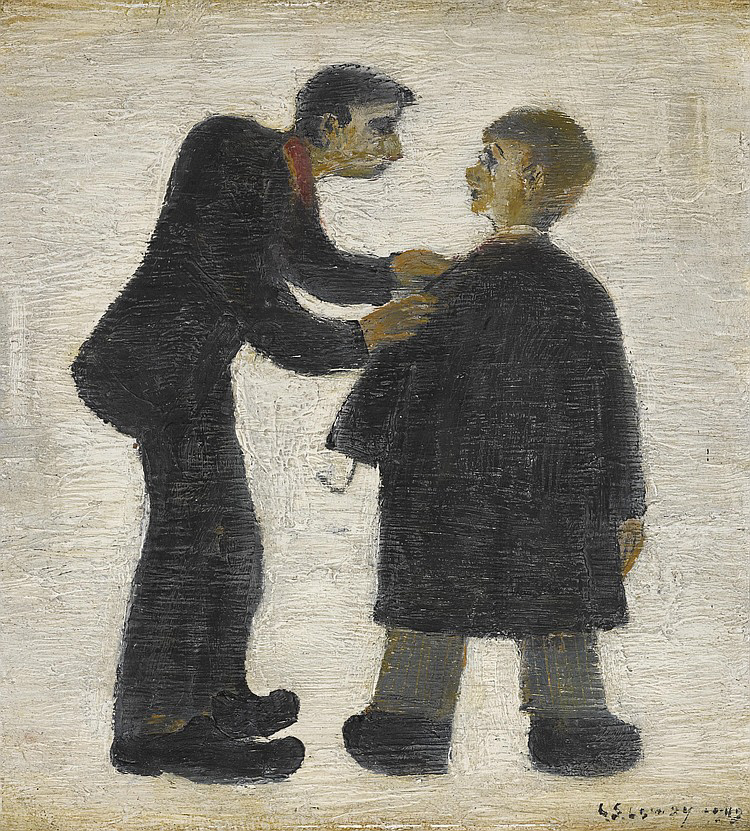 LAURENCE STEPHEN LOWRY, R.A.
1887-1976
THE CRIPPLES (POLITICAL ARGUMENT)
signed and dated 1949
oil on board
28.5 by 26.5cm.; 11.25 by 10.5in.
Sold £86, 650
15th November, 2011

PROVENANCE
Alex Reid & Lefevre, London
Crane Kalman Gallery, London
where acquired by the present owner,
December 1970

,p. The Cripples (1949, The Lowry, Salford) is a painting that stands at a significant point in Lowry's development, yet it was not until over a decade after it was painted that it would become apparent why this was so. Even to those who are familiar with Lowry's work beyond the core repertoire of mills and streets, its concentration on this motley collection of unfortunates, painted large and with an unflinching eye for detail, is tough.

Whilst Lowry had always produced work with larger figures that allowed for a greater level of detail and characterisation, it was only in the later 1940s that this began to become more common. In the 1950s increasing numbers of his paintings were reducing the industrial landscape element to a notational backdrop, the people stepping forward to take centre stage, simultaneously becoming more real and human. By the 1960s one frequently finds Lowry complaining that he is no longer interested in painting industrial landscapes; it is figures he really wants to paint. Looking back to The Cripples, we can see how it is both a distillation of so much that had gone before and also a pointer towards what was to come.

The genesis of this large painting is well-entrenched in the Lowry canon: seen in an early stage by Lowry's friend, the painter David Carr who had queried the veracity of such a range of unfortunates, Lowry and Carr took a drive, spotting, it was said, 101 between Manchester and Rochdale. Carr received updates in some of his letters from Lowry as to how the painting was progressing, 'Here The Cripples are very good and behaving themselves and none of them are undergoing any operations at present' (The Artist, in a letter to David Carr, 2nd November 1948). But one cannot escape the feeling in the final painting that we are seeing something that one does not generally associate with Lowry, an element of mockery. In virtually all Lowry's earlier paintings of figures somehow on the 'outside' in some way, one is always struck by his essential humanity in his treatment of the subject.

Never flinching from the reality of those dealt a poor hand in some way, there is always a detectable sympathy, a feeling that it can be just a trick of fate that means it is not us, or indeed him, sleeping on a park bench or crippled by the childhood diseases or work accidents so prevalent at the time. War too had added its own swingeing and random weight, and especially in the years following WWI, the period in which Lowry pictorially remains for much of his life, those who had been in some way affected would have been commonplace. Throughout his paintings we see malnourished and bow-legged children, women broken by repeated child-bearing, men made old before their time by working conditions that defy modern norms.

Yet they are not oddities, they are part of the world that Lowry aimed to bring to notice and without them there his work would lose its veracity, its sense of understanding. The present work does not lack in its observation, but it is so noticeably different in character to The Cripples that it is initially difficult to associate it with the larger painting. Whilst Lowry's usual practice was to date his paintings at completion, the simplicity of this painting has much in common with other depictions of two or three figures from the later 1940s, and thus whilst both paintings are dated 1949 (we see from the letters to Carr that the large painting was well underway in September 1948), we must consider it to be a study for the equivalent grouping in The Cripples.

However, whilst the pose and positioning of the two figures is identical in both paintings, the connection between the figures is clearly different. Here, the men are clearly young, indeed almost boyish. Their dress suggests they are down on their luck, but there seems to be something in their interaction that hints at a mutual assistance through these bad times. There is a tenderness and sympathy in how Lowry presents them that immediately feels genuine.

The same might be harder to argue for the pair in the Salford painting. Made much older by the artist, there is a cantankerous quality here at the fore, old men grumbling at their lot. Within the context of the larger composition, they have become caricatures, amusing 'types', their vulnerability somehow lost. As one moves across the many figures of The Cripples, only two characters do not seem to be subject to the mockery that is hinted at elsewhere.

Both look directly at us, the figure propelling himself on a wheeled skate (Andras Kalman recalled the familiar character in Manchester who was the source for this figure) and the central man, who, apparently barely held up by his crutches, stares out at the viewer. It is possible to see in this figure characteristics that via paintings such as Head of a Man, 1938 (The Lowry, Salford), which has strong self-portrait elements, clearly suggest that the artist is presenting himself as perhaps the chief amongst cripples, someone surpassing the caricatures around him.
The life and times of Artist L.S.Lowry.
Laurence Stephen Lowry did not like to think of himself as an amateur artist. People would occassionally accuse him of being self-taught and untutored. he commented, "Started at fifteen years old. Don't know why?" My aunt said "You are no good for anything else, so you might as well go to Art School." LSLowry began evening classes in fine art and free-hand art drawing during 1905. Later studying in both the Manchester Academy of Fine Art and The Salford Royal Technical College at Peel Park. School records show that Lowry attended art classes during the 1920's. Lowry had learnt from teachers, people such as the Frenchman Adolphe Valette. This French Impressionist artist had made a big impact on the art world. He saw from exhibitions in Manchester how the current trends in modern art were changing, and had great affection for Pre-Raphaelite art, by artists such as Rossetti and Ford Madox Brown. A naive Sunday artist LS Lowry certainly was not. Lowry strove for a distinctive way of painting and drawing, and for a subject matter Lowry could make unique.
Lowry eventually chose the view from the Technical College window. Industrial scenes of Salford and Manchester, rather than that of a model posing.
Throughout the early years L.S.Lowry lived in Victoria Park, the suburbs of Manchester. Due to lack of money the family moved to Station Road, Pendlebury.
There, the tree lined streets changed to factory chimneys. Lowry recalled "At first I detested it, and then, after years, became pretty interested in it, eventually obsessed by it". he saw the subjects for his paintings all around him. In Lowry's later life, L.S.L. recalled a particular event. "One day after missing a train from Pendlebury (a local town) I had ignored for seven years, and on leaving the station, saw the Acme Spinning Company's mill.
The huge black framework of rows of yellow lit windows standing up against the sad, damp charged afternoon sky. The mill was turning out. "Gazing at this scene, which I'd looked at many times without seeing, with rapture."
A writer in The Guardian newspaper, Bernard Taylor, recognised the unique quality of Lowry paintings, when he reviewed an early exhibition. "Mr Laurence S Lowry has a very interesting and individual outlook. Lowry subjects are Manchester and Lancashire street scenes, interpreted with technical means as yet imperfect, but with real imagination. We hear a great deal nowadays about recovering the simplicity of vision of primitives in art. These pictures are authentically primitive, the real thing not an artificially cultivated likeness to it. The problems of representation are solved not by reference to established conventions, but by sheer determination to express what the artist has felt. Whether the result is according to rule or not..."
Lowry worked as rent collector for the Pall Mall Property Company, prefering to keep the work secret. Lowry did not want people to think of him as a part-time artist. The job led to Lowry walking all over the city providing L.S.Lowry with many sights and experiences. Children playing in the streets, people returning from work, going off to work, gossip on the front steps, incidents, market places and Whit - processions. But all this changed, the blitz and rebuilding, slum clearances and new housing, changed the face of the city Lowry had observed so well. "I saw the industrial scene and was affected by it. Trying to draw it all the time and trying to express the industrial scene as well as possible. It wasn't easy, well, a camera could have done the scene straight off".
Lowry felt that drawings were as hard to do as paintings. Working the surface of the drawings by smudging, erasing and rubbing the pencil lines on the paper to build the atmosphere of the drawing. This artist would often make quick sketches on the spot on whatever paper he had in his pockets. L.S.Lowry carefully composed his pictures in a painting room at home and took great care over placing each figure. Late in life he would sit before a canvas or board on his easel and not know what was going to be in the painting until he started working. He called them "dreamscapes". Bernard Taylor made the suggestion that helped Lowry achieve the stark figures and the pallor of the industrial sky that he desired. Taylor suggested Lowry painted on a pure white background. He experimented with layers of white paint on boards, leaving them for a time until the surface became creamy.
LS Lowry used a very basic range of colours, which he mixed on his palette and painted on the white background. "I am a simple man, and use simple materials: ivory, black, vermilion (red), Prussian blue, yellow ochre, flake white and no medium (e.g. linseed oil). That's all I've ever used in my paintings. I like oils... I like a medium you can work into over a period of time". Looking closely at the surface of a Lowry painting shows us the variety of ways he worked the paint with brushes (using both ends), with his fingers and with sticks or a nail. Some paintings are painted over the suface of other images. The 1938 painting Head of a Man (Man with Red Eyes) when x-rayed showed a female portrait and possibly a self-portrait underneath. Someone once asked,"What do you do with your old suits?" "Wear them", came the reply! Lowry certainly wore them for work, wiping the brushes on his lapels and sleeves.
In 1932 the father of Lowry died . For the next seven years, his 73 year old mother became 'bed fast' and completely ruled the life of Lowry. After she died in 1939, Lowry painted "The Bedroom Pendlebury" - in memory of those long hours he spent there. Demanding a great deal of his attention, Lowry would usually only manage to arrive at his studio after dark. "My mother did not understand my art, but she understood me and that was enough" Lowry said.
These were years of isolation and growing despair, reflected in the paintings of Lowry. They depict derelict buildings and wastelands as mirrors of himself. As an official war artist - himself emotionally blitzed - Lowry drew the ruined shells of bombed-out buildings. In 1939, the year Mrs Lowry died - the person he most wanted to please - success came with the first London exhibition. "When the mother of Lowry died, all interest was lost, continuing to paint was the greatest salvation".
Just when this northern artist began to have success, Lowry was moving away from the subjects that everybody wanted him to produce. "If it were not for lonleness, none of my works would have happened". Some of the most powerful paintings by Lowry are deserted landscapes and seascapes. Some of the most difficult pictures to enjoy are of solitary figures and downs and outs. "These people affect me in a way that the industrial scene never did. They are real people, sad people. Sadness attracts me, and there are some very sad things. similar feelings in myself".
Everything came too late for Lowry, but the later years saw the British artist become a popular celebrity. Lowry also became preoccupied about whether his art would last. "Will I live", he asked over and over again, like the art of the Pre-Raphaelites Lowry collected and loved, "I painted from childhood to childhood". Lowry became an old man - often protesting to interviewers that he had "given up, packed it in".
LSLowry died aged 88 in 1976 just months before a retrospective exhibition of his paintings opened at the Royal Academy. It broke all attendance records for a twentieth century artist. Critical opinion about Lowry remains divided to this day. Salford Museum & Art Gallery began collecting the artist's work in 1936 and gradually built up the collection which is now at the heart of the award-winning building bearing the artist's name. Celebrating his art and transforming the cityscape again. A small quantity of paintings by the artist l.s. lowry were published as signed limited edition prints. Some of the most well known being, 'Going to the match', Man lying on a wall, Huddersfield, Deal, ferry boats, three cats Alstow, Berwick-on-Tweed, peel park, The two brothers, View of a town, Street scene.


Please take a moment to browse and enjoy the signed
limited
edition prints and paintings by wildlife artist David Shepherd,
Also the work of Sir
William
Russell Flint whose paintings and signed limited edition prints are in great demand.
Famous for his portraits of Cecilia, Flint's greastest works illustrate the architecture and landscape throughout rural France
This
holiday
house near Brantome, in the area of Dordogne is ideally situated to enjoy the France.
The work of Mr L.S. Lowry has become of great artistic and financial importance of recent years. A selection of his
signed
prints and drawings can be viewed and bought here
Our aim is to offer our clients an excellent service at unbeatable prices.