Woman with beard sketch
---
---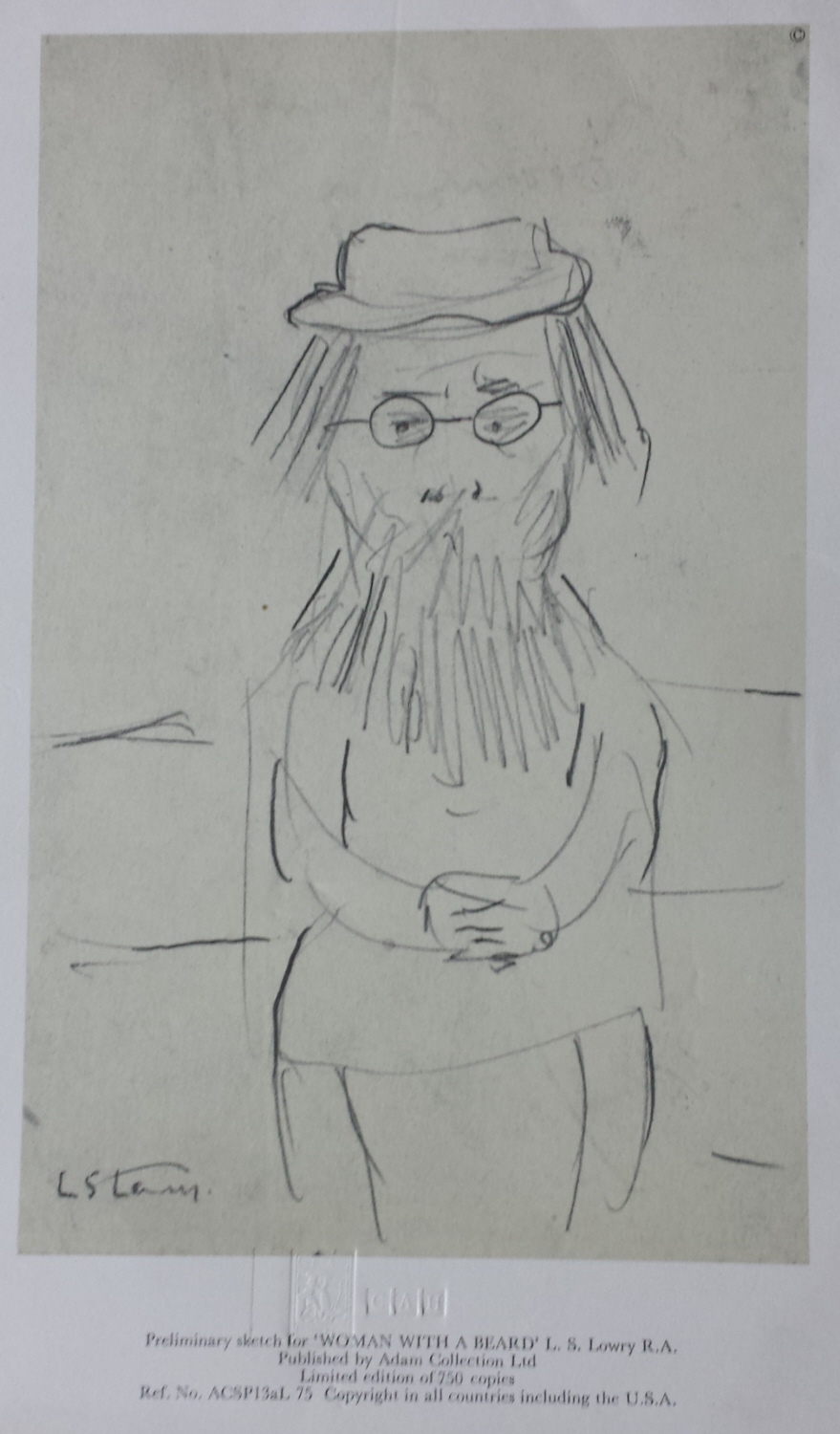 "Sketch for Woman with Beard"
Limited edition print
Image size 5.5"x 8.5"
Stamped by the fine art trade guild
This is the preliminary sketch for the oil painting titled 'Woman with Beard' and was published at the same time.
Published by the Adam collection in 1975
Printed by Chorley and Pickersgill
Copyright in all countries inc. USA
It is one of the artist's rare real portraits.
He recalled how, on one occasion when journeying by train from Cardiff to Paddington, a bearded woman got into his carriage at Newport.
"She had a very nice face, and quite a big beard. Well sir, I just couldn't let an opportunity pass, so I began almost at once to make
a little drawing of her on a piece of paper.
She was sitting right opposite me.
After a while she asked, rather nervously, what I was doing?
I blushed like a Dublin Bay prawn and showed her my sketch- the one from which I later made my painting of her.
At first she was greatly troubled, but we talked, and by the time the train had reached Paddington we were the best of friends.
We even shook hands on the platform. People say, 'Oh, but you couldn't have seen a woman with a beard like that!'But I did you know.
They said the same thing about my painting of the bearded lady I saw pushing a pram in Winchester.
But I saw her too! Although I'm afraid she wasn't quite so nice.
The moment I saw the good lady I pulled a scrap of paper from my pocket and hurried alongside her scribbling away.
Well, my dear sir- her language- Oh! it was quite appalling! Oh, terrible! I wouldn't dare repeat what she called me!"

Signed, limited edition, prints and original paintings, drawings for sale.

You may find some of our other websites of particular interest; the signed limited edition prints and paintings by wildlife artist David Shepherd,
Also the work of Sir William Russell Flint whose paintings and signed limited edition prints are in great demand.
Famous for his portraits of Cecilia, Flint's greastest works illustrate the architecture and landscape throughout rural France
This holiday house near Brantome, in the area of Dordogne is ideally situated to enjoy the France.

The work of Mr L.S. Lowry has become of great artistic and financial importance of recent years.
A selection of his signed prints can be viewed and bought here
Our aim is to offer our clients an excellent service at unbeatable prices.