L.S. Lowry prints
Lowry's House, Station Road, Swinton; For Sale (April, 2002)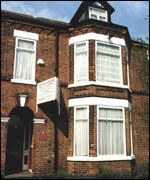 Station Road
The home where the world renowned painter L S Lowry spent much of his life and produced works that have become easily recognisable throughout the country is soon to be sold. Offers of over two hundred thousand pounds are being sought for the six bedroomed Victorian house in Swinton, Greater Manchester. Mr Lowry was born in Manchester in 1887 and lived in the terraced house at Station Road, Swinton, from 1908 until 1948.
Brian and Theresa Roberts, are the present owners of the property, and hope that the new owners will enjoy and respect the house's history.
The six-bedroom house is for sale at £200,000
Mr Roberts said: "This house could become a shrine to England's most distinctive artist. "The Bronte sisters' house in West Yorkshire has turned Haworth into a tourist attraction and Monet's house in France has made Giverny a pilgrimage for art lovers." Laurence Stephen Lowry is one of the most popular British artists of the 20th Century. Last year his painting Going to the Match was bought by the Professional Footballers' Association for almost £2,000,000.
Number 117 Station Road is still surrounded by the industrial scenes which inspired some of Lowry's most distinctive paintings.
And the attic studio where Lowry painted many of his famous landscapes still forms part of the house. On the front of the house is a commemorative red metal plaque, which is listed as a place of interest in a tourist leaflet for visitors to the Commonwealth Games. After leaving his home in 1948, ten years after the death of his mother,
Lowry moved to Mottram, Longdendale. He died in Glossop, Derbyshire, 1976.
Should the house remain unsold by 10th July, it will be auctioned in London.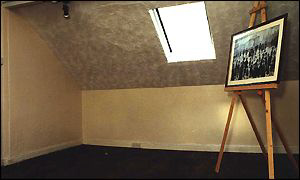 Lowry's studio
Lowry enquiries:-
administrator@lowry.co.uk

England 01623 799 309 or mobile 07974 371 255
A short biography of L.S.Lowry

All major credit/debit cards accepted
Visit the the studio in Nottinghamshire, the largest collection of LS Lowry artist signed, limited edition prints in the UK.
You may find some of our other websites of particular interest; the signed limited
edition
prints and paintings by wildlife artist David Shepherd,
Also the work of
Sir
William Russell Flint whose paintings and signed limited edition prints are in great demand.
Famous for his portraits of Cecilia, Flint's greastest works illustrate the architecture and landscape throughout rural France
This holiday
house
near Brantome, in the area of Dordogne is ideally situated to enjoy the France.
The work of Mr L.S. Lowry has become of great artistic and financial importance of recent years. A selection of his signed prints and
original
drawings can be viewed and bought here
Our aim is to offer our clients an excellent service at unbeatable prices.