Lowry signed prints, limited editions, lithographs and originals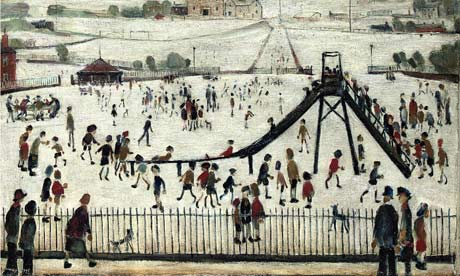 Shown above is the painting
'The Playground'
, by L.S. Lowry 1945.
'Reclaiming LS Lowry'
An article by Richard Cork in the Guardian 24/4/11
Although LS Lowry is one of the most popular British painters, his idiosyncratic outlook has never fitted into the mainstream story of modern art. Reproductions of his work abound. But he is far less easy to encounter in galleries, apart, of course, from the Lowry centre at Salford Quays. Hence the resentment voiced in ITV1's provocative Easter Day programme. Narrated by Sir Ian McKellen, it rightly dismisses the accusation that Lowry was nothing more than an ignorant, unskilled amateur.
The truth is that Lowry did train in Manchester and Salford colleges during the early 20th century.
He may have cultivated a "primitive" style, but it was a sophisticated decision made by an artist who could easily have adopted a more conventional manner. The "matchstick men" in many of Lowry's canvases convey the vision of a defiant and stubborn loner, who avoided contact with the art world and worked in a nine-to-five office job for nearly half a century.
Most of his pictures were painted at night, illuminated solely by an electric light bulb.
The artist had no interest in pursuing a more photo-realist path. The isolation which haunts the people in his work reflects Lowry's own sense of being
an outsider.
McKellen becomes openly angry in the documentary when he focuses on the Tate, claiming that "it is a shame verging on the iniquitous
that foreign visitors to London shouldn't have access to the painter English people like more than most others".
He even suggests that the Tate should sell its collection of 23 Lowrys; a bizarre proposal, which might well mean that the collection ends up in
some wealthy collector's mansion, invisible to anyone except his dinner guests, family and staff. Selling off the nation's assets is a foolish idea,
and it must never be implemented.
At the moment, Tate Britain does undoubtedly suffer from an acute space shortage. Too much of its outstandingly rich collection
of 20th-century art is unable to find permanent display space, and this problem will only be alleviated when its galleries are extended two years from now.
But in the meantime, Tate Britain's curators are eminently capable of mounting a thematic display devoted to Lowry's work.
It would be fascinating to compare his images with paintings, photographs and even films of northern scenes by other artists from that period.
At one point in the programme, Noel Gallagher of Oasis voices his Mancunian suspicion that the 23 Lowrys are invisible because
"they're not considered Tateworthy. Or is it just because he is a northerner?" People who live outside London often feel uneasy about the
overwhelming power of metropolitan culture in this country. So the Tate has much to gain from countering this sense of discomfort, and attending
more closely to the life flourishing in places far removed from our capital city.
Not that Lowry's paintings present a vision which tallies with our experience of northern life today.
Born in 1887, he concentrated on the urban scene familiar to him during his childhood and adolescence.
In Lowry's work, many of the buildings, both industrial and domestic,have long since disappeared.
But their replacement does not invalidate his art. On the contrary, we can now see Lowry even more clearly,
as a lifelong obsessive who committed himself to interpreting an almost vanished world.
Lowry enquiries:-
administrator@lowry.co.uk

England 01623 799 309 or mobile 07974 371 255

All major credit/debit cards accepted
Please take a moment to browse and enjoy the signed
limited
edition prints and paintings by wildlife artist David Shepherd,
Also the work of Sir
William
SirWilliamRussellFlint whose paintings and signed limited edition prints are in great demand.
Famous for his portraits of Cecilia, Flint's greastest works illustrate the architecture and landscape throughout rural France
This
holiday
house near Brantome, in the area of Dordogne is ideally situated to enjoy the France.
The work of Mr L.S. Lowry has become of great artistic and financial importance of recent years. A selection of his
signed
prints and drawings can be viewed and bought here
Our aim is to offer our clients an excellent service at unbeatable prices.