THE discovery of a Lowry sketch on top of a hotel worker's wardrobe has solved the mystery of one of the artist's most celebrated oil paintings.
For 67 years art experts had puzzled over the origins of Dwellings, which was painted in 1934. They suspected that, as was his general practice,
Lowry had based the work on a sketch but could not identify the block of flats that dominated the picture.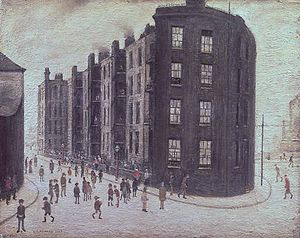 "Oldfield Road Dwellings, Salford", 1927,

oil painting on wood; 43.2cm x 53.3cm.

Exhibited in The Tate Gallery

The mystery was solved when the anonymous hotel worker walked into the Manchester offices of Phillips Auctioneers with a sketch entitled
Jersey Street Dwellings, Ancoats, Manchester.
Virtually the only difference between the two is Lowry's decision to focus more on the building by the time he came to paint in oil.
As a consequence, all four of his trademark dogs have been omitted from the main work.
Both were auctioned at Phillips in London. The oil was expected to fetch up to £200,000, the sketch about £15,000.
James Rawlin, head of 20th century British art at Phillips, said: "We were always puzzled that we did not know the setting. It seems the flats were demolished not long after Lowry drew them.
"It's nice that we've been able to bring the two together. It would be wonderful if whoever buys the oil painting also buys the sketch."
The owner of the sketch, who wishes to remain anonymous, recalls it being given to his late mother in the 1960s.
She did not like it and it was stored on top of a wardrobe.
"I'm not really into art," he said. "Besides, my wife and I didn't particularly want a picture of a block of flats in our lounge."

Lowry had no need to make deliberate expeditions in search of subject matter. His rent collecting took him throughout the poorer districts which surrounded the Manchester city centre. In particular an area on the fringes of Ancoats became a special place. The present view can be located precisely as it was also the subject of a drawing of 1934; it is of the long-demolished Jersey Road Flats in Ancoats.

Dwellings signed and dated 'L.S.LOWRY 1932' (lower left) oil on board 15 1/2 x 21 in. (39.4 x 53.3 cm.) Provenance: with Alex Reid and Lefevre, 1948. Lord Rhodes of Saddleworth, by whom given as a wedding present to the present owners, 1954. Exhibited: London, Lefevre Gallery, Recent Paintings by L.S. Lowry, March 1951, no. 38.

(S. Rohde, L.S. Lowry a biography, Salford, 1999, p. 154).

Laurence Stephen Lowry R.A. (1887-1976) JERSEY STREET DWELLINGS, ANCOATS, MANCHESTER signed and dated 1934, also titled verso, pencil 28 x 38.5 cm. (11 x 15 in.) (unframed) PROVENANCE: Private Collection, U.K. A LOWRY was going under the hammer today - after spending nearly 40 years in a bag under a wardrobe.

Experts say that the drawing, of Jersey Street Dwellings in Ancoats, is likely to be snapped up by a collector for an estimated £12,000. But, despite its worth, the picture's previous three owners have disliked it so much they have either given it away or hidden it. The present owner, who lives in Cheshire but doesn't want to be named, inherited the work from his mother.

He told how it had been passed on to her by her boss. He said: ''My mother was a receptionist for a Doctor Rickards, a gynaecologist who worked in the consultants rooms, in St John Street, off Deansgate, and he had been given it by a patient. ''He told my mother he didn't want it and asked if she would like it. She took it but she didn't really care for it either and she kept it in a paper bag under a wardrobe.'' The 57-year-old from Hale said he had taken the drawing to the Antiques Roadshow before his mother died.

''They got excited and confirmed it was an original and told me roughly what it was worth,'' he said. ''They recommended I take it to the Lowry when it opened to be valued or displayed. ''But I didn't do anything more about it and just kept it in the paperbag on top of my wardrobe. Then when I saw Phillips the auctioneers was opening in Hale I took it there. ''They said they'd auction it for me. It wasn't any use to me and this way I can take the whole family on a nice holiday.'' The drawing will be in Phillips' British and Irish Art sale today at New Bond Street, in London. Coincidentally, a Lowry painting of the same scene is also to be sold in the same sale.

Experts were unable pinpoint the location of the painting Dwellings until the drawing was discovered. The painting of the scene is expected to sell for around £200,000.

EMAIL:-

administrator@lowry.co.uk

England 01623 799 309 telephone 07974 371 255

All major credit/debit cards accepted
Visit the the studio in Nottinghamshire, the largest collection of LS Lowry artist signed, limited edition prints in the UK.
Please take a moment to browse and enjoy the signed
limited
edition prints and paintings by wildlife artist David Shepherd,
Also the work of Sir
William
Russell Flint whose paintings and signed limited edition prints are in great demand.
Famous for his portraits of Cecilia, Flint's greastest works illustrate the architecture and landscape throughout rural France
This
holiday
house near Brantome, in the area of Dordogne is ideally situated to enjoy the France.
The work of Mr L.S. Lowry has become of great artistic and financial importance of recent years. A selection of his
signed
prints and drawings can be viewed and bought here
Our aim is to offer our clients an excellent service at unbeatable prices.