Lowry's Painting comes to life
L.S. Lowry
R.B.A., R.A.
Bringing one of Lowry's Paintings to Life
An iconic Lowry painting will come to life in Manchester and Salford on Saturday 12 November, thanks to members of the public and some stunning digital technology brought together to celebrate the opening of the University of Salford's new MediaCityUK building.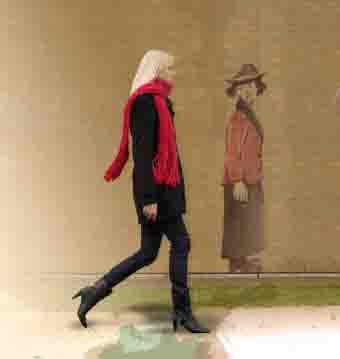 Manchester artists Alastair Eilbeck and James Bailey have created Lowry to Life, a unique art installation
combining LS Lowry's 1954 painting Piccadilly Gardens with cutting-edge technology and digital projection.
The installation is part of the University's Believe free multimedia event opening the doors of its
MediaCityUK facility to the local community.
Visitors to Piccadilly Gardens in Manchester city centre and Salford&s MediaCityUK can literally become part
of the art as cameras and motion capture technology transfer their movements to specially-illustrated
characters taken from Lowry paintings which will appear in a giant projection of the original Lowry work
at MediaCityUK.
With deep roots in Salford and Manchester and his position as one of Britain,s pre-eminent painters of life
in the industrial North of England, Lowry was an obvious choice for former University of Salford student
Alastair, who now works for marketing and technology company Amaze, on which to base the installation.
"I&m very interested in art in public spaces," he said, "and much of Lowry's art depicted people in public
scenes, so there was a common link from the start.
"During my research into Lowry and his work it became clear that he was very interested in the characters
in his paintings, and in fact many of the figures in group scenes were identifiable as real people he knew.
"It made me think that, if we could somehow use members of the public to animate Lowry figures in a painting,
it would be an appropriate way to celebrate his work and bring it to a new audience."
Having received the blessing of the Lowry estate, and working with creative software developer James Bailey, Alastair developed Lowry to Life,
an extremely ambitious art installation involving motion capture, skeleton mapping, projection and networking across sites in Manchester and Salford.
He chose Piccadilly Gardens, one of Manchester Art Gallery's collection of Lowry works, as the basis for the piece as it depicted a street scene which
for the most part still exists in Manchester city centre today.
Motion sensor cameras set up in front of canvases in Piccadilly Gardens and at MediaCityUK will film members of the public moving and, in real time,
will reproduce their movements in a digital Lowry figure. In Piccadilly Gardens, the Gardens themselves will be the backdrop to the moving figures
while over at MediaCityUK, characters from Piccadilly Gardens and MediaCityUK will be combined and integrated into a digital projection of Lowry's
Piccadilly Gardens painting on a screen at the University's new facility.
The end result will be a reimagining of Lowry's artwork with moving characters walking through the painted version of Piccadilly Gardens.
And each of the animated figures will be based on actual people from some of Lowry&s most famous paintings, including The Lying Man,
The Cripples and A Day Out at the Prom, all produced by Lowry around the similar period to Piccadilly Gardens. Wirral illustrator Maria Pearso
n has painted each of the characters from four different views so they can be shown from differing angles on screen when reacting to the movements
of visitors.
"The effect of the moving figures in the painting will be similar to split tin puppets," said Alastair, "which I think will capture the spirit of Lowry
and I hope it,s an interpretation of his work of which he would have approved."
Alexandra King, Piccadilly Partnership Director at CityCo, Manchester's city centre management company which is supporting the event, said:
"It's great to be involved with this innovative project which brings a much-loved painting of a familiar public space to life. We hope visitors
will take part and have the image of themselves in the modern day gardens beamed over to the Salford screen. Working with the University of Salford
and Metrolink, we'll be able to demonstrate just how close Piccadilly is to MediaCityUK."
Lowry to Life is just one of many exciting experiences on offer at the University of Salford's Believe event at its MediaCityUK site.
From being filmed with creatures from BBC's Dinosaur Planet to playing video games on huge iPad-like touchscreen tables, there will be a wide range
of digital showcases and entertainment for visitors to enjoy.

Believe is free of charge for visitors and is also supported by BBC Radio Manchester. And thanks to Salford City Council, Metrolink and Transport
for Greater Manchester, there will be free tram travel from Piccadilly Gardens and Eccles to the event, plus a free Salford QuaysLink bus service
from Salford Crescent railway station and Salford Shopping City.

Visit the the studio in Nottinghamshire, the largest collection of LS Lowry artist signed, limited edition prints in the UK.
Please take a moment to browse and enjoy the signed limited edition prints and paintings by wildlife artist David Shepherd,
Also the work of Sir William Russell Flint whose paintings and signed limited edition prints are in great demand.
Famous for his portraits of Cecilia, Flint's greastest works illustrate the architecture and landscape throughout rural France
This holiday house near Brantome, in the area of Dordogne is ideally situated to enjoy the France.
The work of Mr L.S. Lowry has become of great artistic and financial importance of recent years.
A selection of his signed prints and drawings
can be viewed and bought here
Our aim is to offer our clients an excellent service at unbeatable prices.