Swinbury Station
L.S. Lowry
R.B.A., R.A.
---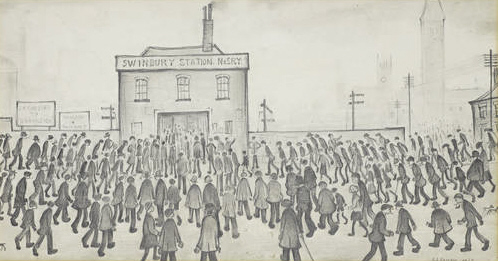 Laurence Stephen Lowry R.A. (British, 1887-1976)
Swinbury Station
signed and dated 'L.S. Lowry 1939' (lower right)
pencil
24.5 x 47 cm. (9 1/2 x 18 1/2 in.)
Sold for £121,250
PROVENANCE:
Gifted by L.S.Lowry to the parents of the present owners, on their engagement in 1940
EXHIBITED:
Salford, The Lowry, February 2009 - July 2011
Lowry executed Swinbury Station in 1939 which was also the year of his mother's death.
The picture shows a busy crowd of figures beginning their journey to the Bramleigh v Swinbury football match,
which is advertised on the platform and would have been the afternoon's entertainment. Both Bramleigh and Swinbury
appear to be semi-imagined locations in the North West which would not be unusual. Lowry is well known for his
fantastical compositions which rarely depict a specific place but are amalgamations of different areas and buildings
with which he has become intimately acquainted.
Swinbury Station shows that Lowry was not just an illustrator of the industrial landscape, even though the factories
and mills that he has become so associated with are made subtly apparent in the background of the composition.
Lowry was an observer of all that working class life comprised and was obliged to show the routines of the weekend as well as those of the week.
As a football fan, he was part of the crowd and places us the viewer at street level directly amongst the people.
Swinbury Station is testament to Lowry's skill as a draughtsman and has never been offered for sale,
having been gifted by the artist to the present owner's parents on the occasion of their engagement in 1940.
It is fitting that the picture has recently been on loan at The Lowry in Salford, where it hung alongside Going to the Match,
Lowry's footballing masterpiece of 1953, which was purchased by the Professional Footballers Association in 1999.