Steps at Wick
L.S. Lowry
R.B.A., R.A.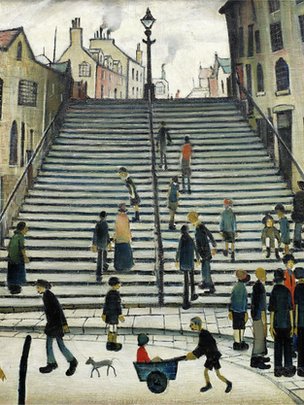 "Steps at Wick"




A painting of a Caithness town by Laurence Stephen Lowry is expected to sell for up to £800,000 at an auction in London later this year.
Steps at Wick was painted in 1936 and shows the Black Stairs in Wick's Pulteneytown area.
It is the first time in years that the painting had become available for sale.
Lowry, who grew up in Salford, was famous for his matchstick figure art and was a regular visitor to Scotland.
The Steps at Wick could sell for £500,000 to £800,000.
Other examples of his work are being exhibited at the Tate Britain gallery in London.
"With the market for the artist stronger than ever and alongside the interest in the current Tate exhibition, we expect collectors will seize the opportunity to
acquire this early tour de force."
LS Lowry, who died in 1976, spent holidays in Scotland in the 1930s.
His art created in the Highlands included a sketch of the Turnpike, a two-storey building in the Fisherbiggins area of Thurso.
Along the coast at Wick he painted the Black Stairs, a flight of Caithness flagstone steps built in the 1820s.
He is best known for his paintings of industrial landscapes.
Engineer Thomas Telford led the planning for Pulteneytown for the British Fisheries Society amid a boom in herring fishing off the far north east coast of Scotland.
Wick was Europe's largest herring port from the 18th until the early 20th Century.
Pulteneytown was named after Sir William Pulteney, a governor of the society.
LS Lowry has the record for the person to refuse the most honours, turning down five between 1955 and 1976.
These included an OBE in the 1955 Birthday Honours List and a CBE in the 1961 New Year's List.
His life and work is celebrated in the 1978 Brian and Michael hit song Matchstalk Men and Matchstalk Cats and Dogs.



England 01623 799 309 or mobile 07974 371 255

All major credit/debit cards accepted
David Shepherd prints and paintings Sir William Russell Flint Holiday house to let in Dordogne France
Lowry signed prints for sale