Sailing Boats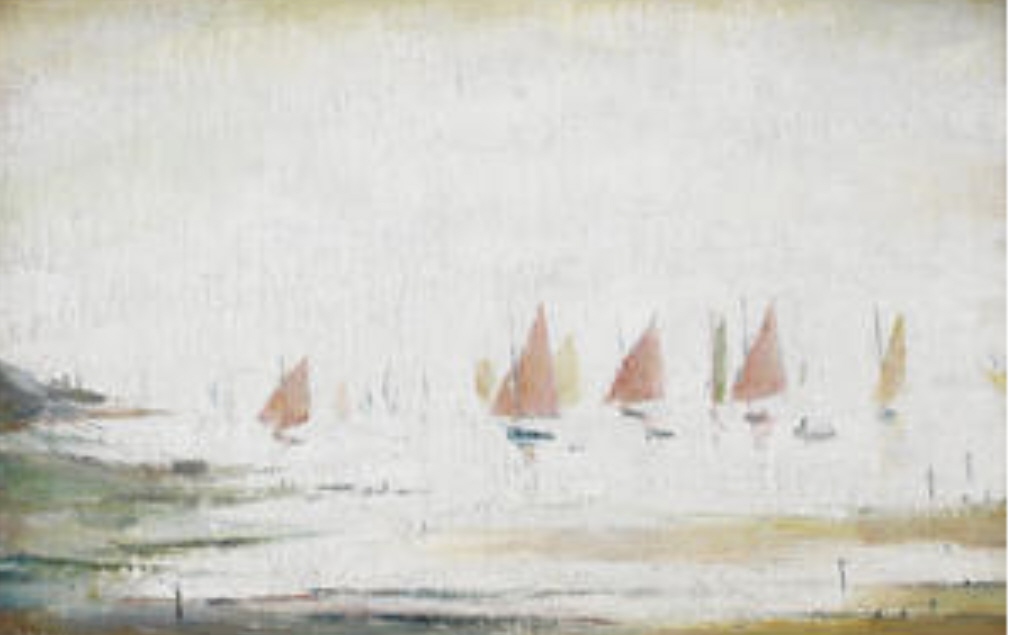 Yachts at Lytham St. Anne's
signed and dated 'LS LOWRY 1951'
oil on panel
21.5 x 34 cm. (8 1/2 x 13 3/8 in.) Sold for £133,250 inc. premium
May, 2012
PROVENANCE: With The Waddington Galleries, London
Lowry's paintings of pleasure boats at Lytham St. Anne's on the Lancashire coast form an important and well-documented aspect of the artist's oeuvre.
It is well known that his mother favoured these over his darker industrial scenes, attracted, perhaps, to their cheerful palette and the nostalgic memory of holidays
at the coast with her son. These works form an important aspect of the artist's output, from sketches made as early as 1902 to well into the 1970s, as Lowry relished
in the painterly effects of depicting the character of the tranquil waters, dotted with pastel sails.
T.G. Rosenthal writes 'it is not mere speculation to say that the sea, wherever he found it, gave him ample opportunity to work with his beloved,
and so ingeniously exploited, white paint. More than the industrials, and more than his earth-bound landscapes the views of the sea had one overpowering component
which existed on a much smaller - and frequently mostly hidden - aspect, namely an uninterrupted horizon where the preponderant white sky met the edge of the sea.'
Over one hundred pictures on display.
Browse through the studio in Nottinghamshire, or arrange a viewing of paintings and prints at your home/office.
Most limited edition prints illustrated are in stock and well below gallery retail prices!
Limited editions prints and Original drawings, lithographs for sale.


01 623 799 309 or mobile 07974 371 255
administrator@lowry.co.uk
Click on images or buttons below to view the selection of signed limited edition prints for sale.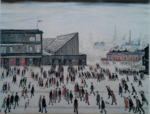 Lowry Signed limited edition prints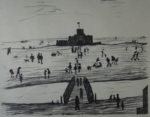 Signed limited edition lithographs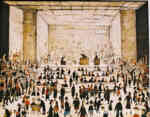 Lowry Limited edition prints unsigned

Specialist dealers to the trade and retail.

---
Lowry Prints and Lithographs.
There are approximately 54 signed Lowry prints (signed, limited edition print titles) by and 17 lithographic prints.



Approximately 26 unsigned, Lowry limited edition prints.
Numerous open edition, poster prints of decorative not numbered or personally signed, of decorative value only, were published.
The signed prints usually have an embossed stamp, by the Fine art trade guild, or that of the publisher.
Some print titles are simply signed by the artist and numbered.
Several print titles eg. 'Mill scene' print, 'Level crossing' print, and 'Market scene' print are simply signed in pencil by L.S. Lowry.
But not stamped or numbered, although they are limited edition prints (editions of 750).

England 01 623 799 309

All major credit/debit cards accepted.


Lowry both liked and understood these industrial areas, Lowry had no need to travel abroad, journeying from one side of the city to the other gave him all the depth he required for his paintings. One of his first reviewers, Bernard Taylor, commented in 1921. Lowry's portrait of Lancashire is more grimly like that of a caricature, because it is done with the intimacy of affection.

He emphasises violently everything that industrialism has done to make the aspect of Lancashire more forbidding than that of most other places. Many of us may comfort ourselves a little with contemplating suburban roads, parks, or gardens in public squares, or with the lights and colours of morning or sunset. L.S.Lowry has refused all comfortable delusions. Lowry has kept his vision as fresh as if he had come suddenly into the most forbidding part of Hulme or Ancoats under the gloomiest skies after a holiday in France or Italy'

We hope that you will browse and enjoy Paintings and signed prints by wildlife artist David Shepherd,
Also the work of William Russell Flint whose paintings and signed prints are highly revered.
Famous for his portraits of Cecilia, Flint's greastest works illustrate the architecture and landscape throughout rural France
This holiday house near Brantome, Frane is ideally situated to enjoy the Dordogne
The work of Mr L.S. Lowry has become of great artistic and financial importance of recent years. A selection of his prints and paintings can be viewed here
Our aim is to offer our clients an excellent service at unbeatable prices.