administrator@lowry.co.uk

01 623 799 309

L.S. Lowry R.B.A., R.A.
Coronation Street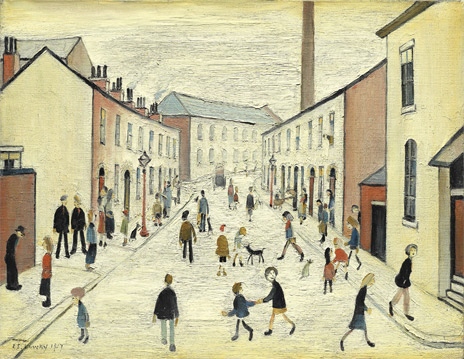 Coronation Street was painted by L.S. Lowry in 1957, it was 3 years afterwards that ITVs producers began the long lasting series. So typical of the atmosphere in which Lowry grew up and worked, the painting is of the worker's small terrace houses, with all the hustle and bustle of busy day, overshadowed by the factory wich loomed in the background.

The painting was expected to make £300,000-£500,000 It will undoubtedly make a great deal more. Archie Street was used by ITV as model for the soap's creation, in 1971 the street was knocked down.

Coronation Street used to be called 'Florizel Street' but when a tealady at the Granada studios said that it reminded her of cleaning fluid. The final choices, both of which were actual treets in Salford, were, Coronation Street and Jubilee Street

Lowry's painted Scenes illustrating the old streets of Salford before WWII Lowry's memories They came from the days when he would stroll through the streets of old Manchester collecting the rent.

LSLowry died aged 88 in 1976 just months before a retrospective exhibition of his paintings opened at the Royal Academy. It broke all attendance records for a twentieth century artist. Critical opinion about Lowry remains divided to this day. Salford Museum & Art Gallery began collecting the artist's work in 1936 and gradually built up the collection which is now at the heart of the award-winning building bearing the artist's name. Celebrating his art and transforming the cityscape again. A small quantity of paintings by the artist l.s. lowry were published as signed limited edition prints. Some of the most well known being, 'Going to the match', Man lying on a wall, Huddersfield, Deal, ferry boats, three cats Alstow, Berwick-on-Tweed, peel park, The two brothers, View of a town, Street scene.

Please take a moment to browse and enjoy the signed limited edition prints and paintings by wildlife artist David Shepherd,
Also the work of Sir William Russell Flint whose paintings and signed limited edition prints are in great demand.
Famous for his portraits of Cecilia, Flint's greastest works illustrate the architecture and landscape throughout rural France
This holiday house near Brantome, in the area of Dordogne is ideally situated to enjoy the France.
The work of Mr L.S. Lowry has become of great artistic and financial importance of recent years. A selection of his signed prints and drawings can be viewed and bought here
Our aim is to offer our clients an excellent service at unbeatable prices.