L.S. Lowry R.B.A., R.A.
Coming out of School
Lowry and the Painting of Modern Life
Tate Britain: Exhibition
25 June to 20 October 2013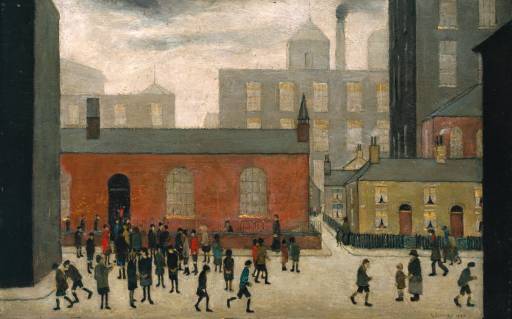 L.S. Lowry
Coming Out of School 1927
Oil on wood support: 347 x 539 mm frame: 631 x 441 x 45 mm
Presented by the Trustees of the Duveen Paintings Fund 1949 ©The estate of L.S. Lowry
Lowry and the Painting of Modern Life results from an invitation extended to the distinguished art historians T.J. Clark and Anne M. Wagner
to reappraise Lowry for a new, extended audience. Including works by Lowry from Tate collection and significant loans, the exhibition
re-assesses his contribution as part of a wider art history, showing how he engaged fruitfully with the French tradition, and argues
for his achievement as Britain's pre-eminent painter of the industrial city.
LSLowry died aged 88 in 1976 just months before a retrospective exhibition of his paintings opened at the Royal Academy. It broke all attendance records for a twentieth century artist. Critical opinion about Lowry remains divided to this day. Salford Museum & Art Gallery began collecting the artist's work in 1936 and gradually built up the collection which is now at the heart of the award-winning building bearing the artist's name. Celebrating his art and transforming the cityscape again.
A small quantity of paintings by the artist l.s. lowry were published as signed limited edition prints. Some of the most well known being, 'Going to the match', Man lying on a wall, Huddersfield, Deal, ferry boats, three cats Alstow, Berwick-on-Tweed, peel park, The two brothers, View of a town, Street scene.
Please take a moment to browse and enjoy the signed limited edition prints and paintings by wildlife artist David Shepherd,
Also the work of Sir William Russell Flint whose paintings and signed limited edition prints are in great demand.
Famous for his portraits of Cecilia, Flint's greastest works illustrate the architecture and landscape throughout rural France
This holiday house near Brantome, in the area of Dordogne is ideally situated to enjoy the France.
The work of Mr L.S. Lowry has become of great artistic and financial importance of recent years. A selection of his signed prints and drawings can be viewed and bought here
Our aim is to offer our clients an excellent service at unbeatable prices.