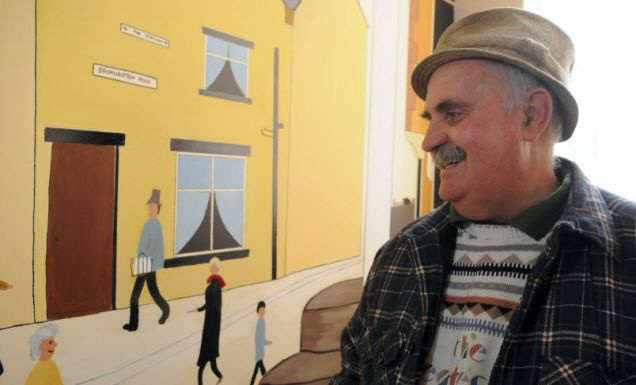 The Milkman who had £1m LS Lowry paintings, but threw them away
A local milkman from Mottram, Lancashire made a costly mistake when he threw away ten sketches, given to him by LS Lowry as a gesture for delivering his milk.
The collection of drawings were estimated at approximately £1million.
A picture in the style of L.S.Lowry has been painted on a wall in Mottram. Ben Timperley admires his likeness to the milkman in the painting.
Ben the milkman, aged 72 who still continues to deliver the milk, kept quiet about his story until he saw the Lowry-style mural in the great master's hometown of Mottram, Cheshire.
"I´m not a big art lover and I had no idea what they would be worth," he said. "Even now, I wouldn´t say I like his paintings. I thought my children could paint better than him. How could I have been such an idiot?".
But wife Beryl disagreed. "We have children and grandchildren, so we are very lucky. Money isn't everything," she said.
Lowry signed prints, limited editions, lithographs and originals
25 years experience and widely regarded as the world's leading authority on paintings and prints by L.S.Lowry
administrator@lowry.co.uk

01623 799 309


The largest collection of signed, limited edition prints by ls lowry in the UK!




Visit the studio in Nottinghamshire, or arrange a private viewing of prints or original paintings in your home.

We hope that you will browse and enjoy Paintings and signed prints and paintings by wildlife artist David Shepherd,
Also the work of William Russell Flint whose paintings and signed limited edition prints are in great demand.
Famous for his portraits of Cecilia, Flint's greastest works illustrate the architecture and landscape throughout rural France
This holiday house near Brantome, in the area of Dordogne is ideally situated to enjoy the France.
The work of Mr L.S. Lowry has become of great artistic and financial importance of recent years. A selection of his prints and drawings can be viewed and bought here
Our aim is to offer our clients an excellent service at unbeatable prices.