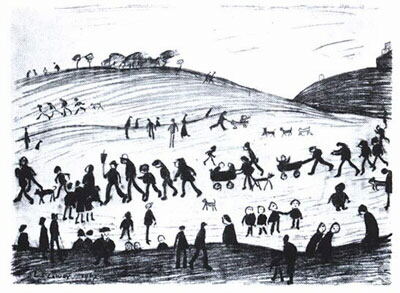 "A Hillside"
Signed, Limited edition lithograph
Image size 24"x 19"
A 'classic' Lowryesque drawing and one the very sought after collection of lithographic prints.
As stated below, there is no original as such, Lowry produced this drawing specifically to be a lithographic print,
and although published years ago, it's character, simplicity, minimalism and two tone colour works beautifully with today's modern lifestyle
Published by Ganymed
An edition of 75.
Numbered and signed
Price:- Please call 01623 799 309
Ganymed Lithographs
These are original lithographs drawn for the purpose, and not existing in any other form.
They are published in limited editions of 75. Each copy is numbered and has been signed by the artist.
All lithographs are printed in black with a tint background.
Due to the lenghty 'hands-on' process and the fact that no two lithographs are identical, they are widely regarded as 'original' prints.
25 years experience and widely regarded as the world's leading authority on paintings and prints by L.S.Lowry
The largest collection of signed, limited edition prints by ls lowry in the UK!
Visit the studio in Nottinghamshire, or arrange a private viewing of prints or original paintings in your home.
Our aim is to offer our clients an excellent service at unbeatable prices.

All major credit/debit cards accepted