The Meeting Place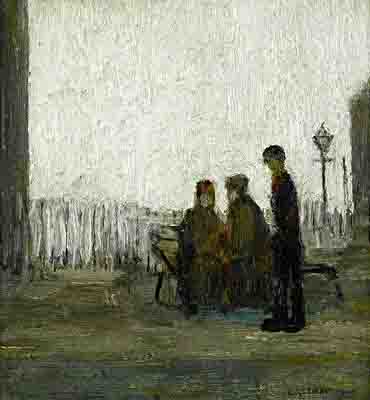 Laurence Stephen Lowry R.A. (British, 1887-1976)
The Meeting Place
signed and dated 'L.S. LOWRY 1946' (lower right)
oil on panel
22 x 20.5 cm. (8 3/4 x 8 in.)
Painted in 1946
Sold for £51,650
PROVENANCE:
With The Lefevre Gallery, London
Private Collection, New York
With Crane Kalman Gallery, London, where purchased by the present owner in February 2002

In The Meeting Place Lowry delicately captures the isolation of the almost ghost-like figures
set against the thick, heavy smog of the industrial setting. The brushwork of the two seated

figures is especially thin and light, with the panel almost visible, in comparison to the
heavy brushwork of the grey and uncompromising landscape seen behind the railings.
Even the street lamp cannot offer a glimmer of hope in this dark and lonely setting of
Second World War Britain.

With the mass demolition that faced many industrial regions following the war, Lowry
began to turn his attention towards the depiction of the individuals within the scene.
Lowry's figures begin to take on a greater depth of character, especially in his depictions
of derelicts, tramps, vagrants and other 'outsider' figures, which is already visible by 1946,

the year this small work was painted.


Visit the the studio in Nottinghamshire, the largest collection of LS Lowry artist signed, limited edition prints in the UK.

Please take a moment to browse and enjoy the signed

limited

edition prints and paintings by wildlife artist David Shepherd,

Also the work of Sir

William

Russell Flint whose paintings and signed limited edition prints are in great demand.

Famous for his portraits of Cecilia, Flint's greastest works illustrate the architecture and landscape throughout rural France

The work of Mr L.S. Lowry has become of great artistic and financial importance of recent years.

A selection of his

signed

prints and drawings can be viewed and bought here

Our aim is to offer our clients an excellent service at unbeatable prices.